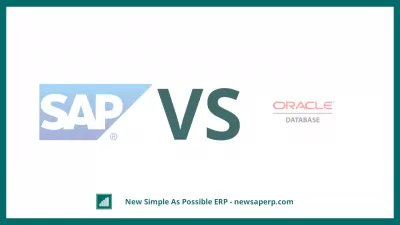 ---
---
SAP ERP is an Enterprise Resource Planning software developed by SAP SE based in Germany. It includes the key business functions of the organization. In general, ERP is software built for organizations belonging to various industries. SAP ERP is a package that is designed to support and integrate almost all functional areas of business processes, such as sales and distribution, finance, accounting, personnel management, manufacturing, production planning, procurement of goods and services, logistics and warehouse management.
Oracle RDBMS is a database management system based on a multi-model schema. It is manufactured and sold by Oracle Corporation. Oracle RDBMS is commonly used for various tasks such as running online transactions, executing data warehouses. Many of the new JUDD stuff comes primarily from Oracle as a leader in database technology. The latest generation Oracle Database 18c is available in a hybrid cloud environment. It offers a wide range of options and features across multiple areas of development, security, governance, scalability, and more.
SAP ERP consists of several modules designed to handle almost all functional areas of business processes, such as financial accounting, controlling, sales and distribution, material management, personnel management, etc. SAP ERP collects and integrates data from separate modules to provide a company or organization with enterprise-level resource planning.
An automated system that offers a set of solutions for building a common information space on the basis of an enterprise and effective planning of resources and workflows is SAP a database management system.
Oracle Database is very reliable, it can handle huge database sizes and heavy application loads. While dealing with complex software is not easy, the Oracle RDBMS project is well equipped to handle this complex complexity. Oracle Database is portable and available across different operating system platforms, including the same documentation and the same codebase.
SAP ERP has many benefits that help in smoother operations at the enterprise level. This allows for easier global interaction and integration, as a result of which the gap between different cultures will be filled automatically. In addition, it provides real-time information so it reduces any chance of redundancy errors. SAP R / 3, ERP software delivered by SAP, brings a new trend in enterprise software ranging from mainframes to three-tier architecture of database, application and user interface. By creating synchronicity across all business processes, SAP simplifies management functions through integration. SAP ERP is also an asset in the sense that it operates in real time, unlike earlier traditional systems that could not operate in real time, which slows down the management process. The SAP ERP model runs in a fourth generation programming language called ABAP.
Oracle has successfully demonstrated the world's highest database performance across multiple platforms. Its database performance tuning is an interesting concept for many developers around the world. There are several technologies, such as Oracle RAC and Data Guard, that help you scale your database vertically and horizontally. Along with the standard product, Oracle also provides many tools, utilities and capabilities that come with the server, but the main thing is that it is easy to use and works well for most operating systems.
Face-to-face comparison between SAP and Oracle
Sector
SAP ERP: Enterprise resource planning
Oracle RDBMS: Database management system
Functionality
SAP ERP: Real time management of business processes
Oracle RDBMS: Manages data in enterprises
Languages
Definition
SAP ERP provides set of tools to facilitate information flow in business
Oracle RDBMS is multi-model database management system
Key Area
SAP ERP is application + database
Oracle RDBMS is just plain database, with no application
Functional Area
SAP ERP: Sales, distribution, accounting
Oracle RDBMS: Data warehousing, transaction processing, database workloads
Product
SAP ERP: SAP R / 3
Oracle RDBMS: Oracle database 18c
Cost
SAP ERP implementation cost is considered higher
Oracle RDBMS implementation cost is lower as compare to SAP ERP
Key differences between SAP and Oracle
SAP ERP is a well-known enterprise resource planning solution, while Oracle is the most well-known technology provider, especially for RDBMS.
SAP ERP deals with functional areas of business such as accounting, sales and distribution, materials management, finance, etc., whereas Oracle DBMS deals with key data areas such as data warehouse, database workloads, etc. .d.
SAP ERP is synonymous with large corporations like Microsoft, while Oracle RDBMS is available in simple versions that can be used reasonably well for personal and enterprise solutions.
SAP ERP disrupts traditional information system management, which considers processes independently, whereas Oracle deals with an RDBMS that can operate in a multi-model design to simplify the database design process.
SAP R / 3 is one of the classic examples of SAP ERP, while Oracle Database 18c is the latest version of Oracle Corporation.
SAP ERP uses ABAP as its standard language, while Oracle DBMS can be accessed through a standard language called SQL.
SAP ERP is an asset in the sense that it operates in real time as opposed to a traditional system, whereas Oracle DBMS can be called an asset in the sense that it can be reduced to personal use outside the enterprise.
The SAP ERP domain is in the real-time business management system, whereas the power of Oracle DBMS lies in the management of the databases.
SAP ERP development can include Oracle as a database system as it can be integrated with multiple databases, whereas Oracle RDBMS can be one of the key components of enterprise resource planning for a business firm.
SAP ERP integrates business applications, while Oracle RDBMS is used in enterprise environments for data tier functionality.
There are five main criteria to consider when choosing SAP and Oracle solutions.
Improved functionality versus tighter integration between modules.
SAP built its solutions from scratch, Oracle grew mainly through acquisitions of various companies. For example, Oracle acquired Demantra for advanced sales and operational planning, Hyperion for financial reporting, Siebel for customer relationship management, while SAP created most of these functions in its ERP systems in-house.
Product card.
Explore Your Business Potential: Discover Our Range of Transformative Courses Today!
Unveil the power of knowledge with our diverse array of courses, from Operational Procurement in S/4HANA to SEO essentials. Elevate your expertise and drive success in your business ventures.
Get your course
SAP continues to develop its core products while Oracle moves towards Fusion. Some might suggest that Oracle is more innovative or forward-thinking in technology. However, it also means that there is a lot of uncertainty about Oracle's product line.
Flexibility.
SAP is a very powerful solution and can be difficult to change as the business evolves. This is its strength and weakness: the system is tightly integrated and promotes adherence to standardized business processes throughout the enterprise, but the software is more difficult to modernize to meet changing business processes and requirements. On the other hand, Oracle's approach allows for greater flexibility in accommodating changing business needs, but this can become a disadvantage when it becomes more difficult to enforce standardized processes in a large organization.
Implementation costs, duration and risk.
While SAP and Oracle solutions tend to be more expensive and take longer to implement than most 'second tier' ERP systems, there are clear differences between the two. Oracle has a slight lead in average implementation time and an even greater advantage in its average cost — 20% less than SAP. On the other hand, SAP implementations are less risky.
Business benefits and customer satisfaction.
This is perhaps SAP's greatest strength. While Oracle has the highest satisfaction rate of any ERP vendor, SAP leads the real business benefit category. Considering that most companies implement ERP projects with the aim of achieving tangible business benefits, this is enough to recognize SAP as a reliable solution for many companies.
Conclusion - SAP ERP vs. Oracle RDBMS: What's the Difference?
Once one has a solid understanding of the difference between SAP and Oracle, they can test their online training programs, which are structured according to business process optimization skills. As part of SAP ERP, applicants can complete training in finance and control, material management and personnel management, and others. Likewise, in Oracle RDBMS, candidates will hone their skills in configuring, installing, designing, and managing an RDBMS.
SAP ERP provides an enterprise business process solution that can also include database capabilities. On the other hand, Oracle RDBMS can provide a data solution that is one of the components of enterprise resource planning.
It all depends on the requirements and planning budget. SAP ERP will provide business with a complete solution for all your enterprise-level needs, while Oracle Database, running on multiple operating systems or platforms, will provide a solution for all data-related requirements. The difference between SAP and Oracle is quite noticeable, just the business requirements must match customer satisfaction and budget.
Frequently Asked Questions
Why use SAP RDBMS Oracle?

This is commonly used for various tasks such as performing online transactions, performing data warehouses. Many of the new JUDD capabilities come primarily from Oracle as a leader in database technology.
---
Explore Your Business Potential: Discover Our Range of Transformative Courses Today!
Unveil the power of knowledge with our diverse array of courses, from Operational Procurement in S/4HANA to SEO essentials. Elevate your expertise and drive success in your business ventures.
Get your course
---
---