Increasing the level of competence and qualification of employees has long been included in the list of mandatory activities, which is carried out regularly with the help of specialists. According to historical data, back in ancient times, the state spent quite a lot of money from the budget so that employees of enterprises could attend so-called courses. Today, almost all positions that are occupied by various people provide for mandatory advanced training.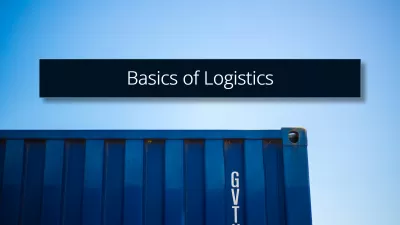 ---
---
In business, for example, managers themselves are looking for a place where employees could gain additional knowledge in a particular area, or the employee himself takes the initiative in this matter.
What will give you the course Fundamentals of Logistics?
If you are interested in logistics or just want to get started with this topic, the Basics Of Logistics course is perfect for you!
During this course, you will gain a lot of knowledge and skills that you can apply to start a career in logistics or improve your professional skills. You will be able to learn about logistics: its definition, history and stages of development. You will be able to learn the basic functions, principles and classifications of logistics and a lot of interesting and practical knowledge in this area.
Also, the lessons of this Course will provide complete information about logistics systems, costs and their accounting. You will be covered topics on such types of logistics as: procurement, production, distribution, transport and storage, and so on.
Practical skills acquired on the Course
improve your professional skills for the effective management of logistics activities
you can carry out your first cargo transportation, as well as optimize existing ones
you will be able to conduct the procurement logistics activities of the enterprise, taking into account the realities and possibilities of the modern legal society
will be able to distribute and control the use of production and technological resources
find out what the logistics profession is interesting for, what logistics companies do and what operations and functions they perform
will be able to organize the provision of resources based on the logistics concept
Some of the sections of the course basics of logistics
Purpose, functions, and principles of logistics
Learn more about the 6 principles of logistics and understand how they interact with each other and why they are needed.
Logistics system concepts
There are various logistics system concepts that must be understood to master the various sides of supply chain management. They are also explained in this online course.
Logistic channels
The logistic channels are actually similar to marketing ones, and are necessary to get goods to final consumers. Learn about the various channels in the online course.
What is Logistics?
Let's start with what logistics is, in order to further reveal the essence of the course.
Logistics is a set of organizational, managerial and production-technological processes to effectively ensure the organization of the movement of material and other resources.
A broader definition of logistics interprets it as the doctrine of planning, managing and controlling the movement of material, informational and financial resources in various systems.
From the point of view of practical application, logistics is the choice of the most effective option for providing goods of the right quality, the right quantity, at the right time, in the right place at minimal cost.
There are three functions of logistics:
integrating - the formation of the process of commodity circulation as a single integral system;
organizing - ensuring interaction and coordination of stages and actions of participants in the movement of goods;
control - maintaining the parameters of the material-conducting system within the specified limits.
What is business logistics?
The task of logistics in business is to develop the optimal route for the delivery of goods, which will reduce costs in the process of transferring goods to the final consumer, that is, the cost of the product. It is important that the goods are delivered to the customer intact and in compliance with the agreed deadlines.
Logistics companies are often opened by people who have already worked in this area, know how this business works, and have connections in business circles. If you have not dealt with logistics before, it makes sense to hire a competent logistician.
If you do not plan to buy your own transport, but only want to deal with logistics, you will need to conclude contracts with transport companies or drivers working on their cars.
Therefore, in order to be successful in the logistics business - you need our course on the basics of logistics!
Choose the best for yourself
In conclusion, we can say that during the course you will gain a lot of knowledge and skills that you can apply in the future to start a career in logistics or improve your professional skills.
We can say that logistics is the science of optimal management of discrete and continuous flows in the production of goods and services. Therefore, the course on the basics of logistics will be able to introduce you to this interesting science and help you start your journey in this specialty.
After the course, you will need much less time to find a solution to any problem in the field of logistics. You will learn to really analyze the problems and tasks of logistics, which is very important.
By the way, some statistics. Western scientists were sure that if you invest one euro in your development, then after you complete certain courses or training, this euro can bring five times more profit, this is at least.
So think about whether you want such a development for yourself or is it enough for you what you already have?
Teaser: The Basics of Logistics - Online Course
---
About the author - New Simple As Possible ERP
He is an international SAP ERP implementation facilitator. He worked more than 10 years in international ERP project management, global supply chain perfection, financial optimization, and SAP ERP project deployment. He made business transformation possible in various industries, such as Logistics, Cosmetics, Consumer Goods, Beauty Care, or Fashion, in many countries around the globe. 
---
---