High-quality full acquaintance with SAP for obtaining a certificate, further employment and development of professional skills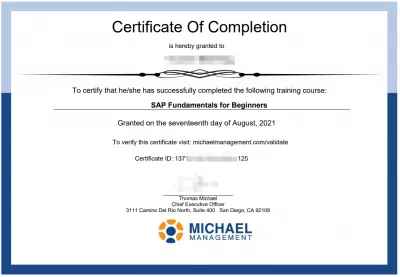 ---
---
Free course to learn SAP
High-quality full acquaintance with SAP for obtaining a certificate, further employment and development of professional skills
SAP training allows you to master modern technologies and their application in business. This is success in employment, work, as well as starting your own business.
SAP is a modern system that is a real assistant in business in any direction. The software is quite new, so now there are not so many specialists who can effectively use it and cope with the most difficult tasks.
For those who dream of learning new things, want to master a demanded profession and keep up with the times, there is a free SAP fundamentals for beginners free online course with certificate.
What is the training course for?
The main objective of teaching with this modern course is to introduce you to the modern SAP system. This is the latest software model, which consists of several structures:
Thanks to such a program, it is possible in any business to carefully form reports and keep accounting. This allows you to timely record and evaluate all major costs, as well as manage funds and control the main development strategy.
Logistics becomes an additional important point. This area includes the transportation of goods, as well as control over shipments, deliveries, interaction with contractors. Additionally, stocks are necessarily controlled, and their required level is maintained without surplus.
Who needs a course?
The importance of the presented course is difficult to overestimate. This is information about what exactly the program is, as well as tips and tools for using it. A complete system can be adapted for a wide variety of businesses. As a result, there are several main groups of people who need such a course:
New SAP users should definitely study all the features of the program and learn how to use it;
Members of the team that implements the project, they must definitely keep up with modern technologies;
Job seekers must understand that this software is the future;
With the help of a free course, managers of their own business will be able to understand all the intricacies.
A free online SAP course with a certificate makes it possible not only to fully master this system, but also to receive a supporting document.
What's in the course?
The modern training program is designed in such a way that in a short time anyone can master the software as much as possible. There are many main tasks in the implementation of the course:
Full acquaintance with the software and its capabilities;
Use of SAP ERP at a high level;
Studying the interface and skillfully moving around it to perform various tasks;
Familiarity with the process of conducting basic transactions;
Active use of the main modules that are required to work with this software.
The SAP online course gives you the opportunity to start working with this software for free after completing the training. Of course, to fully master the system, you will need impressive practice and you will definitely need to show perseverance in further self-development in order to become true professionals, but such training will be an excellent start and a new step in this specialty.
Obtaining a certificate
Free SAP certification is available to any user. To do this, it is enough to complete the course. You need to register, the tool is convenient, it allows you to do everything quickly, you just need to make a few mouse clicks and log in to the resource quickly and easily.
The next step is to complete the course itself. You should responsibly study all the information provided, try to carefully deal with the questions, analyze your level and find gaps in a timely manner.
After the training is completed, a certificate will be available. Its electronic version has been sent to everyone who dived into this system and got acquainted with it.
Application of the certificate
SAP Basics for Beginners opens up a lot of interesting possibilities. In particular, knowledge is supported by a certificate. In the future, you can use it for yourself.
First of all, this is proof of one's own qualifications for an existing job, this makes any employee more competitive.
The second point is the placement of such a document in the resume, which significantly increases the chances of finding the desired vacancy and hiring in the future.
Finally, you can share information on linkedin, various social networks, as well as on specialized forums and other resources.
Employment
SAP consultant is a specialist who is engaged in adapting solutions based on SAP systems for the purposes of a particular enterprise: from project implementation to maintenance. Vacancies can be opened both in consulting companies and in the largest enterprises in the industry that automate processes.
This is a very promising specialty, after studying which you can find yourself an interesting and highly paid job after the course. To enter this specialty, it will be enough for you to study the free SAP Course for beginners.
The main goal for obtaining a certificate, as well as for the training itself, is employment. Finding a suitable vacancy, promotion, as well as self-development of a particular business requires knowledge and skills in the field of the latest technologies.
By mastering SAP software, you can count on an edge in a variety of areas. It is management and reporting that is relevant to stores, warehouses, labeling, manufacturing, and a variety of institutions.
Modern trends require specialists to keep up with the times, thanks to this, it is possible to cope with various tasks most efficiently and efficiently.
SAP Basics for Beginners Free Online Course with Certificate
★★★★⋆
MichaelManagement SAP Basics for Beginners Free Online Course with Certificate
 Fun to do and easy even if your native language isn't english. Very informative if you have never operated SAP.
Frequently Asked Questions
What are the benefits of SAP ERP certification ?

SAP ERP certifications are proof of qualifications for an existing job, making the employee more competitive. Also, the presence of a certificate in the resume increases the chances of finding the desired vacancy and employment in the future.
---
---