Procurement processes are at the center of the Supply Chain, and they are necessary to perform any production or sales activity down the line.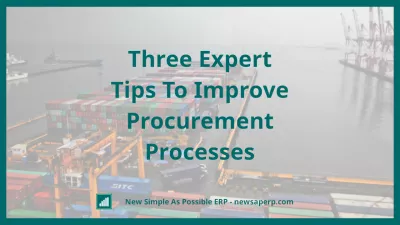 ---
---
Why are procurement processes central to a company?
Procurement processes are at the center of the Supply Chain, and they are necessary to perform any production or sales activity down the line.
The  procurement lifecycle management   is composed of several parts, which can be summed up in the  plan buy pay process   in few steps:
Planning which resources are necessary for the planned activities,
Buying these resources from the best providers,
Paying them properly.
ERP Procurement Process at a glance: Plan, Buy, Pay are the basic parts of an ERP procurement process
Several software solutions are helping to perform these activities simply, efficiently, and with access to the largest possible pool of suppliers such as  Ariba SAP   online platform that allows to manage the  operational procurement   processes of nearly any company, thus improving drastically their global Materials Management process that must be in place even before starting with procurement.
Tips to improve procurement processes
In order to improve procurement process within a business, the best way is to implement the best practices of the  plan buy pay process   by using the existing functions of an ERP procurement process that can be implemented in any company.
How to improve procurement efficiency? We asked the community below questions for their best tips on improving corporate procurement processes:
What is one tip you would give to supply chain managers or to employees dealing with procurement to improve the ERP (or not) procurement processes?
These questions are very important to improve the raw materials management processes of the company, and ensure a smooth procurement that will allow for the production to run on time, to have enough semi-finished or finished good to ship when the sales will be coming.
Here is what they answered us:
Adeel Shabir, Indoor Champ: mandatory process for consumer goods purchase
The procurement process is mandatory if you have a business that's been doing a purchase of consumer goods. There are many things that you need to keep in mind when handling procurement processes.
*Following are the tips for improving procurement processes:*
1. Build better relationships with the suppliers. This is necessary because in order o maintain your procurement plan you need to have great relationships with the suppliers. This can really enhance your position in handling procurement efficiently.
2. Enhance your network. When you have procurement division to handle, you need to enhance your networking abilities to have as much knowledge about the market. This way you know about the market.
3. Keep an eye on global trends. When you are in the business, you have to take care of the upcoming trends that is happening around you. This can only happen when you have great connections and your network is vast.
Adeel Shabir, Content Marketing Executive, Indoor Champ
I am a Content Marketing Executive at Indoor Champ - a media outlet created for indoor game enthusiasts. We believe games like table tennis and chess make people more productive and less stressful at work, and have more fun at home.
John Moss, English Blinds: use an ERP to automate things
Making the fullest and most efficient use of your ERP can help you to manage purchase orders better and more efficiently, by streamlining and automating many of your most time-consuming processes. An ERP can automate things like creating shipment tracking numbers, inventory checks, fulfilment triggers, coordination of supplies, and a wide range of other tasks too if you really get down to it, including checking other sites for available stock if something is unavailable at your localized hub.
Your ERP can also enable you to save masses of time on creating and overseeing purchase orders by setting up a framework for one-click reordering and breaking down orders on a line-by-line basis, as well as staggering multiple delivery dates and locations from the same purchase order if needed too!
John Moss, English Blinds, CEO
Leonard Ang, CMO Iproperty Management: partner with suppliers through an ERP
For me, one best way to approach the procurement process is to recognize suppliers as your partners since they are important to an organization's success. This is because both your companies share vital information regarding the supply-chain which is essential in aligning the future plans of both parties. With ERP, you not only share strong supplier partnership agreements, but you get to facilitate exchange of information regarding sales and operational forecasts and plans. With this, cost reductions and improved profitability may be observed since there is enhanced automation ability on managing inventory, supplier rebates, claims, purchasing, payments, and request for quotation.
Leonard Ang, Community Manager, CMO Iproperty Management
My name is Leonard Ang. I'm a writer for CMO Iproperty Management, a B2B Ecommerce company that sells labels to warehouses, schools, universities, and organizations in the public sector.
---
About the author - Yoann Bierling
Yoann Bierling is a Web Publishing & Digital Consulting professional, making a global impact through expertise and innovation in technologies. Passionate about empowering individuals and organizations to thrive in the digital age, he is driven to deliver exceptional results and drive growth through educational content creation.
---
---
Explore Your Business Potential: Discover Our Range of Transformative Courses Today!
Unveil the power of knowledge with our diverse array of courses, from Operational Procurement in S/4HANA to SEO essentials. Elevate your expertise and drive success in your business ventures.
Get your course
---