Both the SAP ERP system and the Oracle ERP system have excellent financial management capabilities for an organization. Functions such as accounts payable, accounts receivable, and asset management are associated with excellent valuation. However, Oracle software managed to win in this category for several reasons.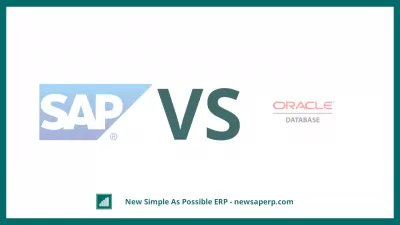 ---
---
Feature Comparison
Both the SAP ERP system and the Oracle ERP system have excellent financial management capabilities for an organization. Functions such as accounts payable, accounts receivable, and asset management are associated with excellent valuation. However, Oracle software managed to win in this category for several reasons.
This vendor has slightly better risk management performance than SAP. Oracle provides improved financial management and reporting reliability, as well as GRC compliance. Oracle prides itself on its risk management solutions that help ensure enterprise-level compliance and automate some forms of compliance across industries. These tools help prevent things like cash flow and provide a level of compliance that helps companies feel confident about the risks they face. But SAP's risk management tools are still great and can help businesses identify and better understand risk factors.
Oracle ERP modules provide tools based on common processes. There is Asset Management to Retirement covering the full life cycle of assets, from acquisition to depreciation and eventual liquidation. There is also a Cash Position Transaction, again using the point-of-sale approach and combining it with long-term financial data.
Budgeting
The Oracle ERP system is much better suited for budgeting. The SAP software has relatively basic budgeting, containing the ability to manage and perform overall planning. Oracle, on the other hand, boasts a specialized tool called Asset Lifecycle Management. This allows you to realize the full financial potential of your equipment and other facilities. You also get a range of features that meet the typical budgeting needs of any business.
Prices
Oracle surpasses the basic functions of SAP here as well. SAP will do the job, but Oracle's advanced pricing tools can make all the difference for your company. Oracle may change your base prices to match market segment, currency, exchange rate, and other options. He can also manage profit margins, discounts, and also discounts using set rules.
Human resources
Oracle is a good choice for HR, but SAP goes above and beyond. SAP manages many HR functions and allows users to access important information about all of them in one place. Employees also use a dedicated portal where they can update their information as needed. SAP ERP software also helps with things like payroll and offers e-hiring features to help companies know how they are managing employee retention and churn.
While Oracle may not be as reliable in general, it does have excellent reporting capabilities with a visual representation that allows you to quickly share data. This can be especially important for your company if you want to make more data-driven HR decisions. Easily visualized data can help you understand general trends, allowing you to quickly see your company's history and projected future.
CRM
Both Oracle and SAP have good CRM software, but these systems have strengths and weaknesses in different areas. Oracle excels in all areas, but excels at nothing. SAP has some really standout features, but there are also some that are just satisfying. For example, Oracle has good marketing support that makes it possible to manage campaigns on a single platform. SAP manages only this by providing cross-functional processes related to finance, purchasing and marketing. You can plan campaigns and budgets, but it's still not as good as installing Oracle.
Simple guides and tips to use your new CRM system
Oracle's ERP also has good customer account management, but SAP excels in this area. SAP will help you on all customer fronts. With this solution, you can view the history of your customers, which allows you to more effectively deal with lead generation issues. It is also integrated with marketing, sales and finance, giving you complete insight into your customers. The more you know about your customers, the easier it will be to promote them in context and use smarter sales strategies.
Sales order management in both solutions gets excellent marks. SAP builds a wide network and meets the needs of distributors of any size, in all industry segments and in all sales channels. Oracle's strengths lie in their reporting and data capabilities.
Supply chain management system
While a good CRM is important for keeping satisfied customers, an efficient supply chain is just as important. We see that both ERPs have comparable SCM software, but again, they are strong in different areas. While the applications are technically priced the same, you should make sure that the features of the ERP system you choose match the needs of your business.
Distribution management, which provides information about the profitability of a warehouse and manages other distribution tasks, works well in both ERP systems. The purchase order processing functionality in each solution is also equally functional. SAP uses its procure-to-pay module to help companies manage purchasing and ensure supplier selection while analyzing their purchasing patterns for future decisions. Order-to-Pay helps you manage quotes and other aspects of supplier contracts and track deliveries.
Oracle includes a Supplier Invoice for Payment process management tool for supplier relationships. This includes things like registering suppliers, creating contracts, and bill payment tools that help a company acquire what it needs to operate. Oracle's Time and Labor Cloud and Source Cloud tools provide transparency for this kind of tracking.
Applications are beginning to vary in caliber with the help of the Event Management and Advanced Scheduling System (APS). SAP has improved event management to give you a better view of your supply chain. But Oracle has better APS, which allows for better tracking of costs and more efficient allocation of resources.
Inventory Management
As far as SCM is concerned, inventory management is an important part of maintaining a secure warehouse and the entire supply chain. And while both ERP solutions offer extremely robust inventory management, they are different enough to warrant a headline.
What makes many modern inventory management tools so useful is cloud deployment. Cloud ERP systems provide real-time visibility into all business data. For both Oracle and SAP, inventory management means more up-to-date inventory level information and a better understanding of how your products move. All of this leads to a more efficient supply chain, which ultimately means happier customers. SAP emphasizes that their inventory management helps prevent stockouts, while Oracle is focusing on improving productivity.
While both SAP and Oracle offer cloud deployment, only the latter offers an on-premises solution.
Who wins?
Comprehensive ERP tools help businesses overcome uncertainty and improve decision making through clear analysis of real-world finances and operations. In general, both SAP and Oracle ERP do a good job of this. When comparing Oracle and SAP, the main differences are seen in the systems' financial management modules.
If we compare ERP SAP vs Oracle, then after studying all the features, benefits and functionality, we can draw a conclusion about the non-obvious leadership of one system.
Oracle is used to create the structure of a new database, populate it, edit the content, and display information.
Oracle simply has a more complete finance package with better budgeting, pricing, and basic accounting tools. All other features are priced the same. But because Oracle puts the extra effort where companies often need it most, this vendor is the winner between the two.
---
---