SAP certification validates your knowledge and ability to navigate SAP technologies. In simple words, this certificate gives employers confidence in your professionalism, and also shows your competence to partners. The conclusion is obvious - getting SAP certification is important for every specialist.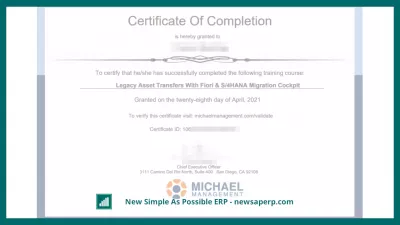 ---
---
SAP certification validates your knowledge and ability to navigate SAP technologies. In simple words, this certificate gives employers confidence in your professionalism, and also shows your competence to partners. The conclusion is obvious - getting SAP certification is important for every specialist.
Getting an SAP certification can be a rewarding step in your professional development. There are many reasons why you should consider getting this certification.
SAP stands for System Applications and Products and was originally aimed at providing customers with the ability to interact with a common database across a wide range of applications. Gradually, more applications began to be collected, and today SAP is used by leading companies such as Microsoft and IBM.
In fact, SAP was founded by five IBM employees in 1972 from Mannheim, Germany. SAP applications have undergone various changes and modifications, and the latest version of R / 3 (Business Applications from SAP) provides tremendous opportunities for managing financial assets, manufacturing operations, factories, personnel, materials, archival documents and cost accounting.
Their famous software SAP ERP has become an industry leader in Enterprise management, and is even often defining the best practices in many industries.
What is SAP Certification?
SAP is continually adding new e-business applications, web interfaces, supply chain management, customer relationship management, and more to its products. SAP systems are made up of various fully integrated modules covering almost every aspect of business management.
SAP is today a globally recognized platform in a variety of functional areas, including:
The demand for SAP knowledge is growing in manufacturing plants where managers work, and companies offer a wide range of modules supported by SAP.
Eligibility for SAP Certification: Courses Offered by Udemy and MichaelManagement
SAP consists of many courses and modules. Eligibility depends on which SAP course you are interested in and the skills he / she possesses. It is recommended that the candidate has a relevant academic background in subjects such as computer science, business administration, finance, accounting, human resources, information systems, operations management, and systems engineering.
SAP certification is divided into two types of courses, one more functional and the other technical format. However, both courses present the same authorization and transaction codes associated with your education. In addition, course content can vary greatly depending on the nature of the course. Let's consider some programs for obtaining certificates on popular sites:
Technical SAP certification is more focused on programming and customizing modules:
SAP ERP Roles and Permissions - $ 13.99 - $ 19.19 (30% discount applies).
SAP Debugger for Consultants - $ 13.99 - $ 19.19 (30% off).
Detailed course on SAP QUERY - $ 13.99 - $ 19.19 (30% discount applies).
How to set up working hours in SAP – $ 13.99 - $ 19.19.
This is further complemented by roles that combine both functional and technical skills, including analyst responsibilities. If you have programming / development / programming experience, it is recommended to use technical courses.
There are no specific courses or sets of courses that must be taken before taking the certification exam. However, if you are applying for a higher level professional certification, you must have an associate certification.
SAP certifications help validate the knowledge and experience of SAP partners, software users, customers, and professionals who want to work in the SAP environment. The certification is recognized worldwide and is a standardized criterion for several roles and responsibilities.
Benefits of SAP certification
SAP is one of the most sought after certifications in the current business environment. IT professionals familiar with SAP platforms are in demand all over the world, and it has been one of the most successful IT certifications in recent years. SAP implementation is a complex process that requires relevant knowledge and training.
It takes a professional years of experience to acquire the necessary knowledge. This is also the reason why modern companies are turning to SAP Certified Professionals.
Who can be SAP certified? At what levels? And in what areas of attention?
SAP has announced three certification levels: Junior, Professional, and Master. Associate and professional level exams are currently available. The master level is still in development.
These levels are defined on the SAP website as follows:
Associate This certification covers the fundamental knowledge requirements of a SAP consultant, ensuring the successful acquisition of broad knowledge and skills in SAP solutions.
Professional Level This advanced certification requires proven project experience, business process knowledge and a more detailed understanding of SAP solutions.
Master's Degree "This certification, under development, includes demonstrating an expert level of understanding of a specific area of ​​SAP software and the ability to drive innovation and optimize solutions through deep knowledge and vision. Certification at this level requires extensive project experience, in-depth knowledge of SAP products, and the ability to create the future IT vision in complex project environments. "
The associate level tests the knowledge of the test book. In most cases, this level does not require SAP implementation experience to pass exams. The questions in the professional level exams are designed to test the test taker's experience with SAP.
SAP points out that you do not need to take the Associate Exam before taking the Professional Level exam. This way, you can choose which level you think you are suitable for and take this exam.
SAP also presented three main areas: applications, technology and development. All three levels of certification fall into three main areas and are designed to help you find the right certification that's right for you.
On the SAP website, these key areas are defined as follows:
Appendix You may take the certification exam after completing the appropriate solution academy course and case study or equivalent SAP standard curriculum.
Technology If you graduate from Solution Academy or SAP training courses, you can take a technology exam to become certified.
Development This certificate is available to individuals who develop applications for SAP solutions.
SAP indicated that if you already have significant experience with each SAP focus area, you can take the exam without attending the course, BUT participation is highly recommended.
Work
Getting better jobs is the main reason professionals register for SAP certification. Many candidates have been able to climb the corporate ladder with their SAP certification.
Currently, SAP is recognized by all global companies and can make a huge leap forward in the career of anyone. 70% of Forbes 500 companies use SAP ERP. As demand grows, the opportunities for skilled professionals also grow.
Money matters
SAP Certified Professionals are subsequently paid more than those without certification. SAP consultants start with a significantly higher salary scale than non-certified ones. The average salary also depends on many other factors, including their level of experience, education, type of employer, and the industry in which they work.
Reputation and recognition
The best role and salary is automatically accompanied by reputation and recognition among colleagues, colleagues and clients. It may even act as motivation, helping them do their job better and receive higher benefits. SAP professionals will be awarded a certificate. Accreditation can be used in conjunction with names and it really makes a strong impression on recruiters and employers.
Promotion prospects
SAP certification can be a special cushion in the career of every professional. After earning a certification, endless possibilities open up and it makes it easier to achieve career goals, as it would be without a certification.
In the workplace, SAP certified employees have priority in promotion over those who do not. As recognized experts in the platform, they are an asset to the company and therefore are subsequently taken care of.
SAP project types
SAP implementation requires a systematic approach. Companies choosing SAP can use different roadmaps to implement SAP in their organization, depending on the nature and complexity of their business processes and regulations, or because of political and environmental factors. Several types of SAP projects have emerged to meet these different needs.
Let's take a look at some of them:
Big Bang Project - Some companies are taking the "big bang" approach where all modules are deployed company-wide in one go.
A phased design is an alternative to the big bang method, where an organization selects some modules for the first phase and then integrates other modules and add-ons in subsequent phases.
Deployment Project - Some companies first implement at their headquarters and then deploy it to their regional and branch offices.
Renovation project. Ongoing SAP maintenance may require full-scale or mini-projects to implement technology and feature upgrades.
Expansion Project - Organizational changes and company acquisitions dictate the need for new business units or functions.
SAP implementation lifecycle
All types of SAP projects adhere to a specific portion of the end-to-end SAP implementation lifecycle. The milestones of the Accelerated SAP (ASAP) methodology are summarized below:
Project preparation includes developing a project plan, identifying project team members, and preparing resources.
Business Blueprint - where existing business processes (AS IS) are compared with SAP processes (TO BE), both are documented and analyzed.
Implementation is the build phase where SAP is configured, testing is done, and the system is validated against the design.
Final preparation involves loading and testing master and historical data in a production environment in preparation for launch.
Go-Live and support begins as soon as users begin to enter real-time data into production and requires monitoring by the design team to address training and system issues.
Conclusion
Today, SAP systems define both large and small businesses. It is one of the most profitable ERP platforms that contributes to the better functioning of the business in all aspects. Having a SAP certification allows the professional to better prepare for the growing challenges in the workplace. In some cases, this is not just an advantage, but a strict selection criterion.
Frequently Asked Questions
What are the benefits of get SAP certification?

SAP certifications help validate the knowledge and experience of SAP partners, software users, customers and professionals who want to work in the SAP environment.
---
---