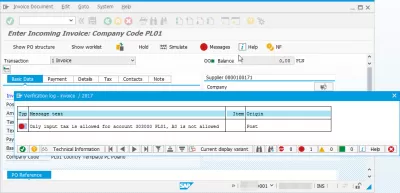 ---
---
In attempting to fix the problem, it is vital to figure out what caused the SAP error. In addition, there are several error codes that are associated with the various SAP errors. In this post, we will demonstrate a variety of approaches to resolving the SAP problem that you might be experiencing.
It is necessary to determine the cause of an update error while attempting to correct the issue. There is a wide variety of each kind of issue.
What Is The Difference Between Input Tax And Output Tax In SAP?
The input tax, also known as the purchase tax, is imposed on all different kinds of buys, while the output tax, also known as the sales tax, is imposed on all different kinds of transactions. Different countries have their own system for calculating their sales tax and purchase tax. The government has the power to impose taxes, and it will occasionally alter the process in accordance with the tax plan that has been established for the country. There are two levels of tax jurisdiction, which are known as tiers, Tax Code Tax Description, which are the country level and the state level.
The Following Are Some Examples Of Input Tax And Output Tax:
INPUT TAX:
These purchases include those made locally, outside, or within the state, subject to value-added tax or local sales and use tax, etc.
OUTPUT TAX:
These sales include those sales in the local area, sales subject to VAT, sales made within the state, sales made outside of the state, etc.
Solution On How To Solve SAP Error Only Input Tax Is Allowed For Account
Proceed to FS00 > Specify GL account, business code > Click the button labeled Change > Go to Control data > Please change your tax type to * and also save.
The tax category should be updated to "*" before the transaction is posted if the GL account that is used for the output tax and input tax is similar. However, ensure the appropriate GL is set in OB40 for the output tax.
If you check it out in FS00, it reveals that the tax category is >. When I built the transaction in testing using the same master data, it enabled me to publish it to accounting.
A one tax code can only be assigned to a single tax type, either Output tax or Input tax only. The configuration of the tax system can be done in a variety of different ways. You need to determine which of the two possibilities accounting actually prefers for that particular account.
4 Reasons On Why SAP Error Only Input Tax Is Allowed For Account:
1. Since MIRO is an input tax, the application of input tax is acceptable. Output tax is applied only to sales and not purchases.
2. It is likely that the tax setup on the G/L account has previously been correctly configured to anticipate input tax.
3. You should always get approval from Administration before making any changes to the G/L master record, even if you later come to the conclusion that the modification is appropriate.
4. Although SAP transaction FS00 allows for the modification of the G/L master record parameters, FSS0 is the one that is most frequently utilized.
You may also refer to this link, but you will need a login for the SAP Service marketplace.
Input VAT is the tax that you paid to a supplier when you purchased goods from them. That is, inout tax appears for those who purchase something from VAT payers, provided that these operations are subject to VAT.
Tax Code Tax Description
In SAP, Tcode is the main entry point that allows users to access and make use of a screen flow, which is ultimately a component of business activity. A transaction is often one item that represents one operation in a business process. Transactions can be used for a variety of purposes, including the creation of new records, the modification of existing data, the viewing of records, and the generation of reports. There are several input tax codes to produce for you to purchase and other purposes. The tax code includes a variety of condition types, transaction keys, account keys, and so on. A portion of this has had its rate percent modified.
SAP T Codes
There is a SAP tcode that enables us to view the message details that are sent to us whenever the system displays an error. This particular T code displays the message's specifics, which will be of assistance in resolving the issue in question.
---
---
Explore Your Business Potential: Discover Our Range of Transformative Courses Today!
Unveil the power of knowledge with our diverse array of courses, from Operational Procurement in S/4HANA to SEO essentials. Elevate your expertise and drive success in your business ventures.
Get your course
---