The focus is on the SAP computer program. This software is being implemented more and more often, especially on the basis of large enterprises, although many representatives of medium-sized businesses are considering buying it. The trend has been observed since the beginning of the 2000s, and before that, products of the 1C series and similar products were universally preferred. Today, SAP is used by the giants of the world market, because the software provides a wide range of opportunities for flexible accounting.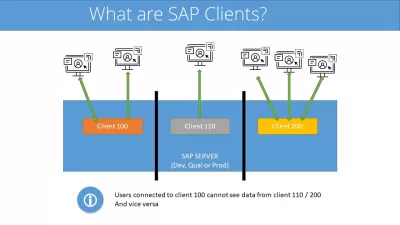 ---
---
Every year, companies spend huge sums on enterprise resource planning software. Today, almost every large business has implemented SAP. How does SAP manage to occupy top positions?
What is SAP?
SAP is one of the world's leading manufacturers of business process management software solutions, developing solutions that simplify the efficient processing of data and information flow throughout the organization.
SAP helps companies and organizations of all sizes across a wide range of industries operate with high profitability, continuously adapt to change and grow in a sustainable manner.
Its tools can be used both individually and in combination. The main thing is that the environment should be unified - this will ensure maximum efficiency of conducting and updating data between different departments or other functional units of the company.
The software model includes 3 links:
This structure allows the end user to conveniently combine key solutions in two areas such as:
accounting and reporting - you can record all production costs, manage funds and orders, mark other important results;
logistics - with planning, marketing and strategic management at once, including invoicing, direct sales and regular shipments of goods; this also includes constant logistics, with procurement and inventory control.
What is an SAP client?
Customer is a Customer in SAP. We can say that each client is mapped to one client. Multiple clients can be created in one SAP instance. There is no need to install separate programs for each client. This provides isolation so that one client cannot see another client's data.
Customers allow SAP SAS vendors to install a small number of SAP systems while still serving a large number of customers.
Not only are costs reduced by sharing hardware and software, but multiple customers also share the same application solution, including administration and support.
Customers help set the SAP landscape. For example, the client could be for the development team, the client for the testing team, and the production client.
SAP Client contains:
Application Data. Application data is data that is stored in database tables.
Data setting. Customization data is data created by customers when they configure their systems.
User master record. The user master record defines the permissions assigned to the user. Basic advisors are responsible for maintaining the user master record and assigning authorizations.
Benefits of the customer concept:
Customers allow SAP SAS vendors to install a small number of SAP systems while still serving a large number of customers.
Costs are not only reduced by sharing hardware and software, but multiple customers also use the same application solution, including administration and support.
Customers help set your SAP landscape. For example, you might have a development team client, a test team client, and a production client.
SAP Client - quality of client experience
SAP is very functional, includes a wide variety of modules (additionally customizable ones are an important part), and allows you to solve a variety of tasks. It is relatively expensive, but justifies itself in the long run of the constant operation of a large enterprise.
SAP provides different object models for the client. The traditional SAP ERP system uses the master data of clients of SAP. All new strategic applications such as SAP CRM, SAP SRM and many industry solutions use the business partner approach.
Traditional business models often involve decentralized data management, where operational data for each functional area is stored in a separate database. This makes it difficult for employees of the company to access information from departments to which they do not belong. In addition, data duplication across departments increases data storage costs and the risk of data errors.
By centralizing data management, SAP solutions provide a single source of trusted information to a wide variety of business units. This allows companies to streamline the management of complex business processes, as employees across departments have access to real-time, enterprise-wide analytics. As a result, companies can accelerate workflows, improve operational efficiency and productivity, and improve customer experience—and ultimately increase profits.
★★★★★
Michael Management Corporation SAP Quick Tips for Beginners
 This short and easy to follow online course will teach you all the basics necessary to use an ERP such as SAP as an end user, understand how it it used in a professional environement and how to be efficient in your daily business need.
---
About the author - New Simple As Possible ERP
He is an international SAP ERP implementation facilitator. He worked more than 10 years in international ERP project management, global supply chain perfection, financial optimization, and SAP ERP project deployment. He made business transformation possible in various industries, such as Logistics, Cosmetics, Consumer Goods, Beauty Care, or Fashion, in many countries around the globe. 
---
---